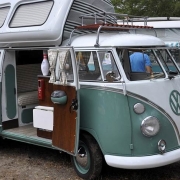 Beautiful Motorhome parking in Maribor right by the river. Delicious restaurant next door.
No advance reservation required!
Motorhome parking camp "Koblarjev zaliv" is located next to a small tavern in the countryside. It is accessible on foot, by bike and by car, and is 2km away from the Maribor city center (10min by car, 20min on foot) in the vicinity of  Mariborsko Pohorje.
The motorhome parking camp is situated on the outskirts of of the forest along the bay of the Drava river, in the immediate vicinity of the Medical Thermal Center Fontana and the Mariborski otok swimming pool complex. There is also an organized walking path at the campsite which leads to the nearest swimming pools, shops, petrol stations and the city center.
Parking has regulated parking places, free Wi-Fi and access to electricity and public restrooms. The restaurant at the campsite offers a varied catering offer of local cuisine.
The camp is ideal for avid travellers and families, who wish to experience the cultural and natural sights of Maribor (The old vine, Vinag wine cellar, the city center and others). Due to the unspoiled nature, waterside location and the proximity of Mariborsko Pohorje the camp is also suitable for all sports lovers, as it offers activities such as boating, fishing, cycling, hiking and skiing.
Na Otok 20
2351 Kamnica
Maribor, Slovenija
https://www.koblarjev-zaliv.si/wp-content/uploads/2019/05/Camp-za-avtodome.jpg
469
655
KoblarAdmin
http://www.koblarjev-zaliv.si/wp-content/uploads/2014/06/LOGO-KOBLARJEV-ZALIV-3-300x78.png
KoblarAdmin
2014-03-31 10:54:14
2019-08-06 06:24:06
Motorhome parking
Ponudba Gostilne Koblarjev Zaliv Maribor
http://www.koblarjev-zaliv.si/wp-content/uploads/2014/06/LOGO-KOBLARJEV-ZALIV-3-300x78.png
0
0
KoblarAdmin
http://www.koblarjev-zaliv.si/wp-content/uploads/2014/06/LOGO-KOBLARJEV-ZALIV-3-300x78.png
KoblarAdmin
2013-04-01 20:49:40
2019-05-20 09:33:41
RESTAURANT OFFER
Scroll to top